Room S105 is "the microscopes room" holding our oldest and historical coarse-fraction samples of deep-sea cores, all arranged into labelled boxes. Most of these samples come from cores recovered globally, some dating back as early as the 70's and 80's. Many are from Professor Sir Nick Shackleton and his involvement in the CLIMAP project but also his later work on DSDP/ODP Sites. The collection also holds more recent ODP & IODP samples as well as some samples from other "in-house "cruises  (BOFS, JC089) involving senior members of the group (Professor Nick McCave, Professor David Hodell and the late Professor Harry Elderfield) as well as former postdocs and students. This ever-growing collection expands now into other rooms and the corridor. Consultation about the collection for potential samples requests for research are made using our contact form and are based on our archive and database systems.

The microscope room is organised into 5 bookable working stations equipped with modern light-microscopes and all necessary small equipment.  We also have a dedicated weighing room next to S105 housing 2  high precision micro-balances for weighing foraminifera or other samples, as appropriate, prior to their analysis.
The facility is available to students and staff for training in basic micropaleontology and identification of foraminifera for isotope and trace element analysis. Such preparation involves dry-sieving of coarse fractions into narrower size fractions from which monospecific samples of foraminifers (benthic and planktonic) are selected using a moist fine brush.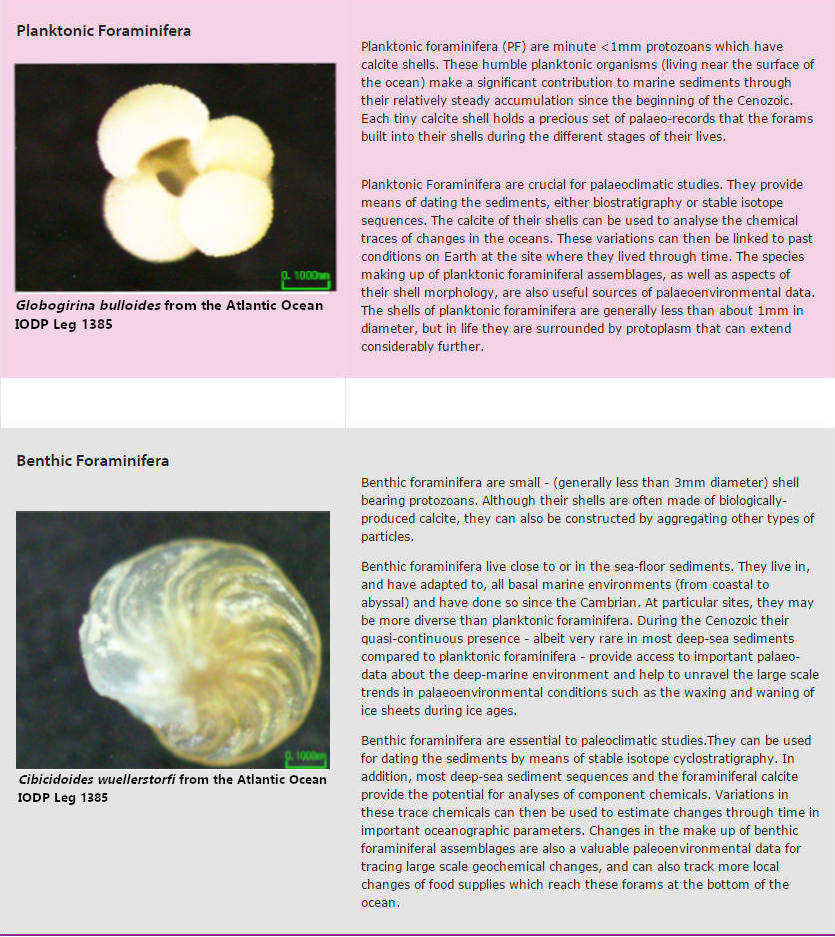 Supervision in micropaleontological samples preparation (i.e. checking taxonomy) as well as more general training in sample preparation and recording prior to geochemical analysis can be provided by Dr Maryline Vautravers who also based in S105.